IDEX : 4 researchers awarded a chair of the Advanced Research Program of Université Côte d'Azur
Published on September 21, 2023
–
Updated on September 21, 2023
Dates
on the September 19, 2023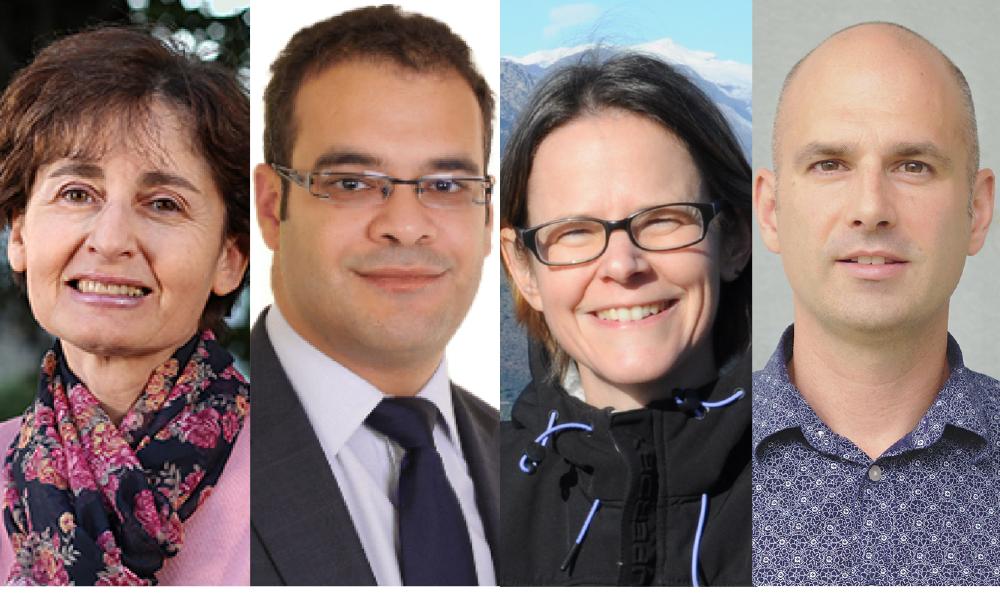 As part of its policy of attractiveness and international outreach, two globally recognized researchers will join Université Côte d'Azur for an extended period as the recipients of an international chair under the IdEx Advanced Research Program.
The program's interdisciplinary selection committee, consisting of experts from inside and outside Université Côte d'Azur, reviewed 22 high-level applications from all over the world, and decided to select the projects submitted by
Dalila Ayoun
, professor at the University of Arizona (USA) and
Amor Abdelkader
, associate professor at Bournemouth University and researcher at the Cambridge Graphene Centre (UK).
In addition, for the award of PRA chairs designated for Université Côte d'Azur candidates, the committee selected the applications of
Mathilde Hugbart
, CNRS research director and physicist at INPHYNI, and
François Hug
, professor of neurophysiology and researcher at LAMHESS..
Below is a short biography of the four new chairs of the IdEx Advanced Research Program:
Dalila AYOUN
She received her PhD in 1992 in French linguistics from the University of Florida. She is currently full professor of French linguistics and SLAT (Second Language Acquisition and Teaching) in the department of French and Italian at the University of Arizona in Tucson. Before joining the University of Arizona, Dalila Ayoun was a visiting professor at the University of Kentucky and an assistant professor of French at the University of Hawaii at Manoa. She is the current coordinating editor for the Journal of French Language Studies. Her research interests lie in the second language acquisition of morpho-syntax (tense-aspect-mood/modality, grammatical gender) and in theoretical and applied French linguistics. She has published two monographs, six edited volumes and over thirty articles or chapters in prestigious peer-reviewed journals and academic presses and given over forty talks at national and international conferences. Her most recent publications include an edited volume (The Acquisition of Gender. Crosslinguistic perspectives, 2022, John Benjamins) and several articles in peer-reviewed journals.
Amor ABDELKADER
He completed his PhD in 2011 in materials science and metallurgy at the University of Cambridge under the supervision of Professor Derek J Fray, FRS. He went on to study self-healing materials with Professor Sybrand van der Zwaag at the Delft University of Technology, Netherlands. In 2012, he joined the School of Materials at the University of Manchester to work on graphene technologies. His research then took him to the National Graphene Institute where he collaborated with Professor Sir Kostya Novoselov (Nobel laureate in physics in 2010). He returned to Cambridge in 2016, where he joined the team of Professor Andrea C. Ferrari at the Cambridge Graphene Centre. In 2017, Amor M. Abdelkader was appointed associate professor of advanced materials at Bournemouth University. He is also a visiting academic at the University of Cambridge. He has published over 70 papers and one book chapter and has filed 20 patents. His research activities cover a broad spectrum of materials topics ranging from newly discovered nanomaterials to traditional engineering materials such as alloys and ceramics. He also has a keen interest in carbon dioxide sequestration.
Mathilde HUGBART
She is a CNRS research director in physics. She earned her PhD in 2005 at the University of Paris XI under the supervision of Professor Alain Aspect (Nobel Prize of Physics 2022) at the Institut d'Optique in Orsay (now in Palaiseau). After a postdoc fellowship at the Paris Observatory, she became a CNRS research associate in 2006. In 2015, she joined the Institute of Physics of Nice (INPHYNI) where she obtained her accreditation to supervise research (HDR) in 2016 and is now serving as deputy director of INPHYNI. Mathilde Hugbart has published more than 50 publications and supervised 10 PhD students and 16 graduate students.
François HUG
He is a full professor at Université Côte d'Azur and the deputy director of the LAMHESS lab. He is head of the doctoral school "Human movement Science" in Nice. François Hug obtained his PhD at the Université de Aix-Marseille II in 2003 and then joined the INSEP (French National Sport Institute) as a research fellow before moving to the University of Nantes where he obtained his HDR (accreditation to supervise research) in 2009. He was a junior member of IUF (Institut Universitaire de France) from 2017 to 2022 and is also an honorary professor at the University of Queensland in Brisbane (Australia). François Hug has published more than 200 articles and has been elected member of the International Society of Electrophysiology and Kinesiology (ISEK).